☀️Swimming Pool is available for free⛱
4.30.2022
This is a great chance to use our beachside swimming pool for free from 20 July to 30 September. Basically, you can use it for two hours, and are free to invite up to three guests per family by previous reservation bases.
This is a great opportunity to make precious and unforgettable memories with your family and guests on this beautiful tropical island.  Also, you can relax and enjoy the poolside shades too, and feel soft breeze during the time on this poolside. We welcomely hope you will reside in this beachside apartment house and Chateau Ra mel apartment to start living with ocean and sunset viewing life.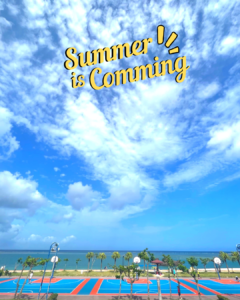 Please don't hesitate to take it, this is the very good chance to go on, as the old saying goes, "the sooner the better" because we definitely don't care for anything that you lose the chance and getting into the disappointment by grudging for little more effort to take it. Even though this is within your fingertips, owner will help to push you from behind by taking care of your moving cost partially if you seriously want to take it. Wouldn't it be a great offer ? I'm the person who can negotiate it.

There is an amusement plan to have a BINGO game for kids and adults to enjoy more of your visit to the beachside pool.
Plus, we provide the free rental of one box car with seven people's ride for your shopping and short trip around Okinawa. And it's only 18 dollars per day.

So please contact at your earliest conveniences to Sunny's Housing Agency (098-936-4888) or if in the case you want me at the early in the morning or the late evening, please feel free to contact Kento to 080-6483-0468 but not midnight!! ok ? you got it ?
Okay, thank you. I'm always sending you a "bravo" with deep respect to you for protecting us, our country.